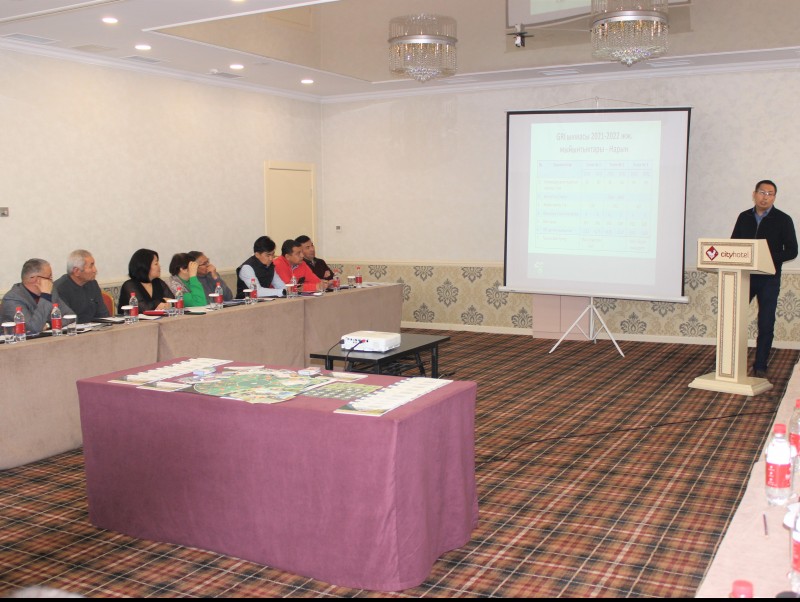 Grazing response index method: results of two years of practice in the pastures of Naryn oblast
13 December 2022
CAMP Alatoo PF specialists presented the results of a project on pasture and natural resources management in Kyrgyzstan.The meeting was attended by representatives of the Ministry of Natural Resources, Ecology and Technical Supervision of the KR, local authorities, regional forestries and pasture committees.
As has been noted a Grazing Responsive Index (GRI) method has been implemented in the last two years in Naryn and At-Bashi districts of Naryn oblast to preserve and restore grass cover during livestock grazing. Six local shepherds were trained and then put into practice the GRI method. Their task was to graze animals according to a time schedule (day, week, month) on different grazing areas and to observe the vegetation condition taking into account such indicators as recoverability, frequency of grazing and intensity of grazing.
According to project staff from the CAMP Alatoo PF, the grazing area assigned to each shepherd was between 100 and 300 hectares. While applying the GRI method, the shepherds divided this area into five zones instead of the recommended four, and grazed animals in each zone alternately. This experiment showed that using more grazing areas in one pasture led to an effective result in conserving vegetation. The project plans to continue working with these herders in the next two years and new participants will be recruited on a competitive basis.
As shown by the monitoring, the condition of pastures was also influenced by compliance with the grazing plans of the Naryn and At-Bashi forestry lands, which were developed jointly with the pasture committees with the assistance of the project team. Another indicator of grass cover assessment were "monitoring points" - small areas in the pasture covered by a "hood" of netting from livestock interference and identified natural grass recovery and growth, grazing intensity and grazing pressure on the pasture.
In addition to the implementation of the GRI method, work has been carried out in the project area to improve the pasture infrastructure. In Jerge-Tal aimak, the problem of growing and irrigating fodder crops was solved by mechanical cleaning of the 3775 m long Kyzyl-Zhyldyz river bed. A watering point was also installed in this area, and two bridges were built in the Naryn and At-Bashi forestry farms and a road for driving cattle to remote pastures was repaired.
The participants were also introduced to the information products of the project - the manual "Step-by-step instructions on rotational grazing using the GRI methodology" in Kyrgyz and Russian, the simulation game on rotational grazing and the application "Mobile Shepherd".
Recommendations made as a result of the project presentations were that a scientific approach should be applied in the analysis of the results of the assessment of pasture conditions, taking into account vegetation diversity, weather and geographical conditions, as well as the dissemination of the GRI methodology to a larger number of resource users.