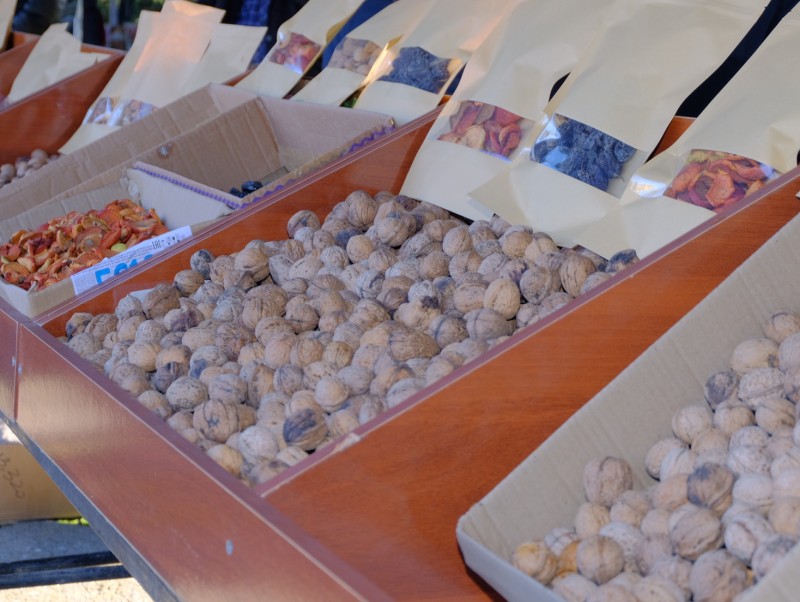 Bazar Korgon hosts annual Walnut Festival
10 November 2022
The Bazar-Korgon district administration, with the support of Deutsche Gesellschaft für Internationale Zusammenarbeit (GIZ) GmbH (German Society for International Cooperation), held a Walnut Festival.
The event attracts more than 500 participants every year: forestry enterprise (leskhoz) in the Bazar-Korgon and Aksy districts, producers of non-timber forest products, artisans, school and high school students, pre-school children, representatives of civil society, international organizations and the media. The festival aims to raise awareness among the local population about the unique and diverse properties of forests and the importance of protecting them.
The festival included a debate between teams of schoolchildren and representatives of forestry enterprises, a conference on 'Cooperation and Leadership in Forest Protection', where participants discussed the development of a geographical indication for the export of wild Kyrgyz Arstanbap nut, the impact of education on environmental culture and human behaviour, and conditions for promoting tourism in the Jalal-Abad region as part of a green economy. Guests of the festival were also invited to the opening of the photo exhibition "Mountains and Women".
At the exhibition-fair, which traditionally accompanies every Walnut Festival, all varieties of walnut grown in the Jalal-Abad region, non-timber forest products, walnut oil from Arstanbap village were displayed. In addition, it was organized a competition among educational institutions in the Bazar-Korgon districtaiming at developing and popularising utilitarian crafts.
The Walnut Festival, supported by GIZ and the KR Forest Service, was previously held in Jalal-Abad town and Arstanbap village, but the second year it is held in Bazar-Korgon district.