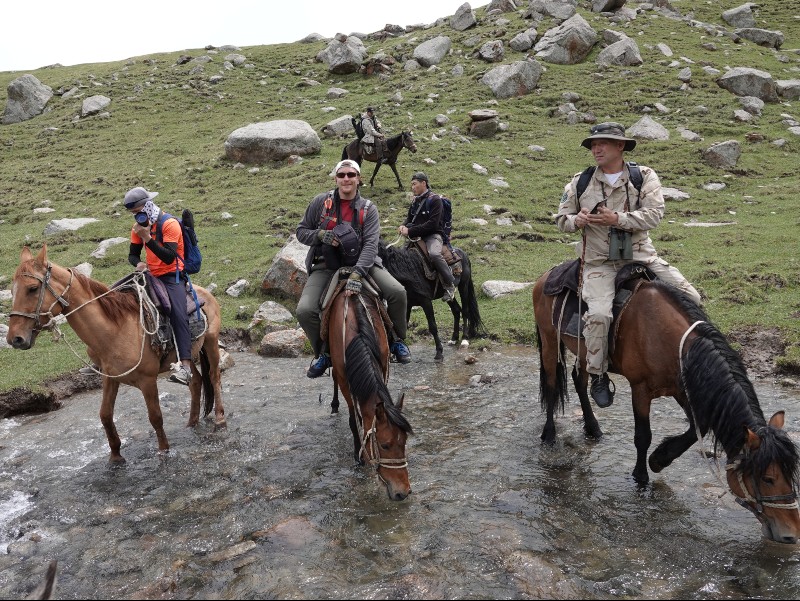 Equine tour "In the foothills of Teskey Ala-Too"
"Ala-Too" - from the Kyrgyz language means "variegated mountains". They are high, partly white due to snow cover and dark on snowless areas. The word "teskey" means "the north facing side of the mountain". This name, which originated by the Kyrgyz people living in the Issyk-Kul basin, refers to the entire mountain range located to the south of the Issyk-Kul Lake.
A horseback riding in the areas surrounded by snow-white mountains and spectacular views of the Issyk-Kul Lake from the altitude of 3650 meters will give you new ideas and impressions, help you reboot and relax properly.
Experienced horse riding instructors will accompany you along the way, helping to manage the horses and ensuring safety.
The route includes the most picturesque places of Teskey: Baiboosun waterfall, glacial lakes Teshik-Kol, Koltor, Muz-Kol, hunters' caves, the healing spring Mazar-Tash (which flows exactly 6 months), a view of the longest glacier of the Teskey Ala-Too - Kok-Say (3 km). At the end of the tour, you can regain your strength in the healing hot springs "Jyluu Suu".
After descending from the high altitude to the lowland, you will find yourself on the warm sandy shore of the famous Issyk-Kul Lake.
Ahead – swimming in the unfrozen lake, getting acquainted with the customs and culture of local residents. You will remember forever their hospitality, delicious national food, unhurried and intimate conversations, as will the bright stars in the velvet-black sky, stunning sunsets and sunrises, the singing of birds in the clouds soaked by the sun rays of the Teskey Ala-Too ridge.