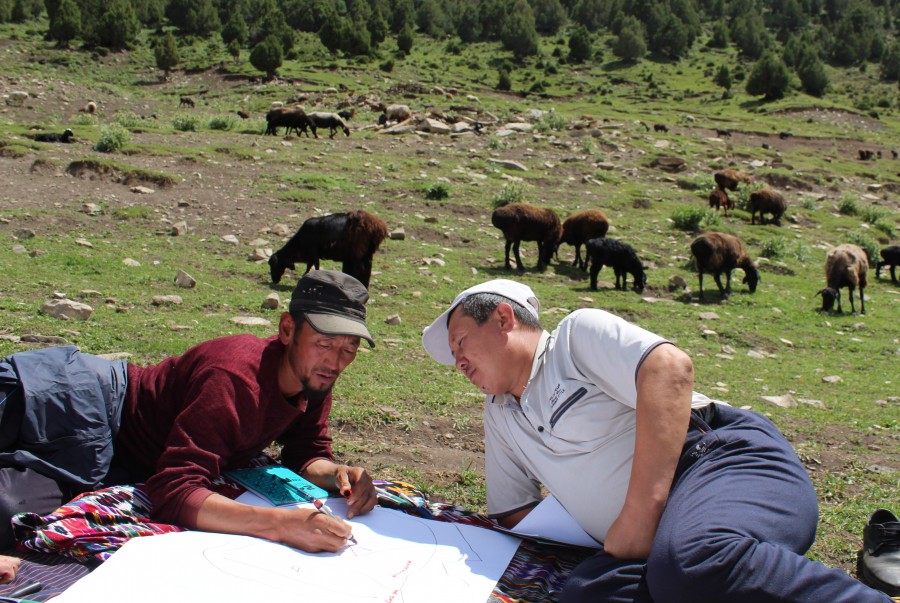 Implementation Period: 2018 - 2020
Donor organization: Европейский союз
Geographical location: Лейлекский, Баткенский районы, Баткенская область, Кыргызская Республика
The focus was on the training of rangeland committee members and resource users on the Grazing Response Index (GRI) method for subsequent application on local sites. GRI is an efficient and cost-effective tool for sustainable pasture management.
Project Background
Orignally, the pasture committees were thought to implement the GRI method to pasture management and grazing plans. The practice showed that the members of the Pasture Committees, due to their workload and lack of time, did not keep records of the pasture capacity determination and also did not keep sufficient track of the pasture status.
The GRI allowed the resource users to observe pasture use and the effects of overgrazing during the growing season. Understanding the physiology and the response of plants to grazing is of great importance when developing pasture management plans.
For the successful implementation of the GRI method in the project area about 40 members of pasture committees and users received a start-up knowledge about the new approach, its implementation in pasture use and management plans, digital pasture assessment methods and mapping. The thematic trainings resulted in pasture area maps showing external and internal boundaries, topographic signs and resources. The detailed description of the plots made it possible to divide the pasture area into micro plots for rotational grazing as recommended by the GRI method. The specialists of CAMP Alatoo assisted in the digitalisation and printing of the maps. Subsequently the shepherds marked the grazing chronology on the maps in order to save the data.
Project Objectives & Goals
Strengthening the role of pasture committees as local institutions in Leilek and Batken districts of Batken province.
Project Result
The project supported initiatives from pasture committees aimed at their institutional development. In the process of selection of applicants, specialists of CAMP Alatoo PF evaluated the implementation of mini-projects in the field, discussed and clarified the details of applications with the heads of committees. By the decision of the project team the proposals of pasture committees from the aiyl districts of Kara-Bak and Beshkent were selected.
In Kara Bak district the construction of a checkpoint and a veterinary post was financed. The checkpoint solved several problems simultaneously - it reduced conflicts between shepherds, improved the veterinary situation in the pasture area of the same name and replenished the budget of the committee through resource use fees. Materials and equipment were purchased for the Beshkent District Committee for pasture monitoring, which is the main function of this public institution. Local shepherds interested in the practice of the GRI method were also supported with solar panels and lithium batteries to improve their livelihood and living conditions in the pastures.